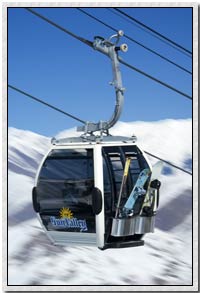 The really short version: I have lived in the Wood River Valley since 1984, permanently since 1993. I have been a ranch hand, river guide, waiter and bartender (at Louie's no less!), computer programmer and owned a headhunting firm. I am currently a full time Lieutenant/Paramedic with
Wood River Fire & Rescue
, truly the best job I've ever had.
I have been taking pictures since the late 1980's with large lay offs in between. My tastes run toward landscapes, especially inaccessible ones, but I am trying to branch out into taking some more diverse pictures, and working on specific picture taking destinations instead of simply going places and then taking shots.
Equipment used (in some sort of order):
Minolta XG-M SLR shooting, developing and printing black and white film, shooting some color and having it developed professionally.
Pentax Zoom90-WR water resistant point-and-shoot, shooting color print film developed professionally.
Minolta Dimage S303, 3 megapixel point-and-shoot digital camera, shooting JPEG's.
Panasonic DMC-FZ8, 7 megapixel point-and-shoot digital with 12x Leica zoom lens, shooting JPEG's and now RAW format.
Pentax K10D, 10.4 megapixel DSLR. Shoot RAW & JPEG but almost exclusively use the RAW's. Started with the Pentax 18-55mm & 70-200mm lenses, have swapped out the tele zoom for the Pentax 70-300mm and added a very fun Sigma 10-20mm wide angle.
Image manipulation (on both the scanned prints and the digital shots) done with Photoshop CS & CS4 on Windows XP.